Our Foster Care and Adoption Approval Journey
4. Telling Family and Friends
Since we considered our training and home study our discernment time, we waited to tell all of our family and friends until we were more sure that we would be following through with becoming foster parents. But, if you've read the previous section about our discernment, you'll know we were mostly confirmed that this was our path pretty quickly.
My parents knew early on as they were references for me. One of G-Man's brothers was a reference for him and we had two sets of friends who were also references for us. They all knew, obviously. But we asked them to keep it quiet.
Three weeks into our training, and about 4 home study visits done, we were visiting my family for Thanksgiving (Canadian, Mid-October). We decided to tell my sisters then. We ended up telling my Grandparents that weekend too. We told Grant's parents around that time as well. The response was wonderful and honest and inquisitive. My dad had a lot of great questions about the process and everyone expressed concern for us and our hearts. Overall we felt loved and it was nice to share our excitement with others.
We decided to make an official announcement during advent. Honestly, we thought that we would be approved by then and so we wanted to share our waiting in the season of waiting. We thought of many different ways to share the news. We settled on sending out announcement cards. So then we had to decide on the picture of the card.
Here are a few picture ideas that I liked: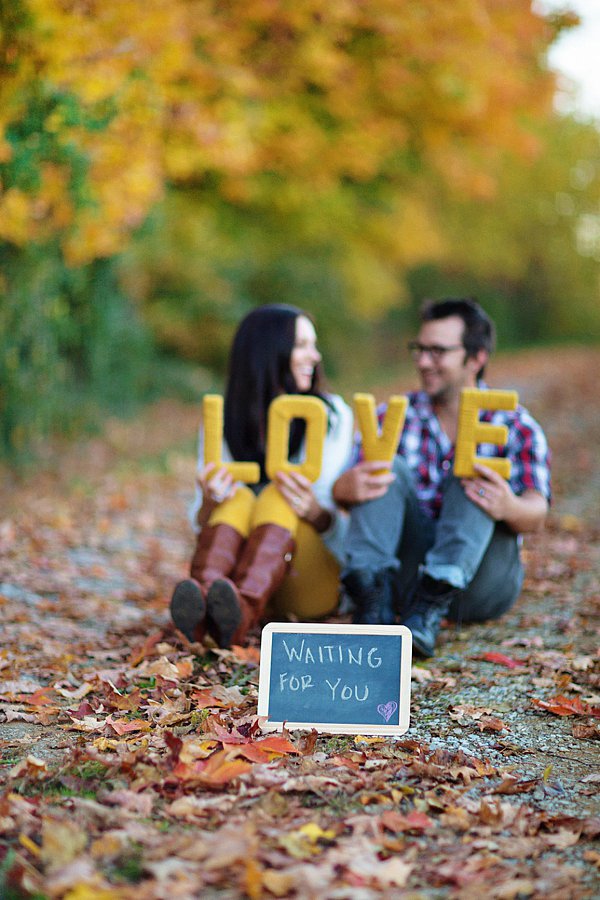 Now, if you know us, you know that we aren't picture-people, especially G-Man. So he wasn't really on board with these pictures.
During this time, we were slowing putting together our nursery. (That could be another post, and maybe it will... putting together the nursery was a blast, it was emotional and it was healing.) And my family wanted to see pictures when it was done. So eventually we realized that having pictures of our nursery on the announcement would be perfect! We wouldn't have to be in the picture, it would still be personal and my family would get too see the nursery. So we 'finished' the nursery and took some pictures.
Here is the finished product!
We love it! Of course, our cat, Martha, had to make it in the pictures. And Ralph, the Christmas moose (a family tradition/weird joke).
We got a wonderful response to these announcement cards!
Soon after sharing with people, we did start getting wonderfully thoughtful emails about individual children people thought we could adopt. Some from places of work, others from families they knew. But we weren't ready for that yet. We weren't approved and there are many hoops to jump through when dealing with Family and Children Services and Children's Aid Societies. We did always discuss these children and their situations and pray for them, that they find their forever homes. We had a peace about it, for the most part, (and Grant more so). We were not in a rush. We actually were enjoying the process and, for once, I wasn't in a rush!
A HUGE highlight of telling others was the support. We have a great family and very giving friends! Two friend couples in particular decided to throw me a baby shower. Words can not express how grateful I am to them for this. It was an emotionally rich event. One I will talk about in another post because I do want to share in more detail the experience of an infertile woman having a baby shower.
Overall, telling others about our plans to grow our family through foster care and adoption, has been an enriching experience. I think we both were nervous because this journey feels so intimate and precious, like a secret desire locked away in our hearts, like a little life growing in our hearts and we want to protect it from the harsh world. But the support was so wonderful. We felt like our desire, our little life, was safe. Hope in a life of being a parent felt a bit unreal for us and sharing it made it come alive.
The question then became, "Are we ready? Are we ready to wait? Will we be approved and when?"